Have a look to our last paper.
T.T. Tung, C. Robert, M. Castro, J.F. Feller, T.Y. Kim, K.S. Suh, Enhancing the sensitivity of graphene/polyurethane nanocomposite flexible piezo-resistive pressure sensors with magnetite nano-spacers, Carbon, Volume 108, November 2016, Pages 450-460, ISSN 0008-6223, http://dx.doi.org/10.1016/j.carbon.2016.07.018.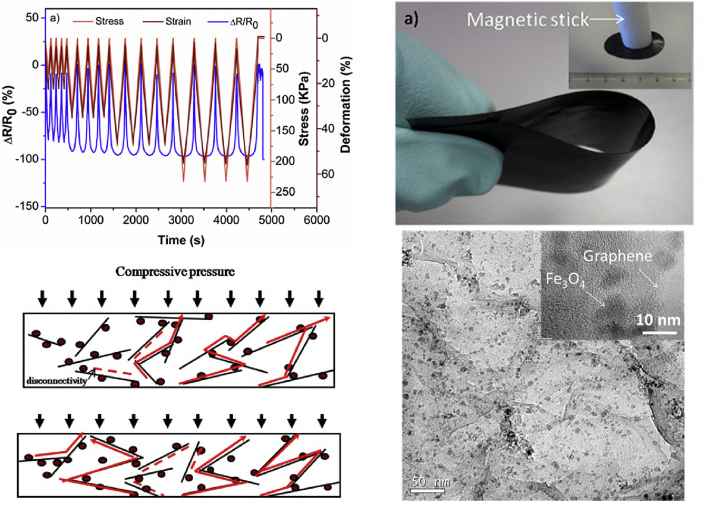 Abstract: Abstract
A robust piezo-resistive nanocomposite flexible sensor has been developed using an innovative combination of materials, i.e., magnetite-decorated graphene/poly(ionic liquid) compatibilized poly(urethane) (TPU/Fe3O4@RGO-PIL). The transducer has been fabricated by spray layer by layer (sLbL) to structure an original three-dimensional architecture in which: reduced graphene oxide (RGO) platelets are used to build the conducting network, PIL stabilizes this percolated assembly, Fe3O4 NP act as nano-spacers between platelets to prevent their stacking and facilitate their switching, and TPU matrix brings cohesion and flexibility to the whole assembly. This strategy results in highly sensitive TPU/Fe3O4@RGO-PIL flexible nanocomposite sensors (high gauge factor in pure compression up to 6.2, exceptionally low threshold pressure 0.5 kPa, Negative Pressure Coefficient), yielding a linear response in a large range of pressures (10–200 kPa), with robust and reproducible piezo-resistive properties (weak hysteresis upon loading unloading cycling, stability of signals up to 100 000 cycles, with 2 ms dephasing). These performances are promising for a variety of applications in flexible and wearable electronics, such as tactile sensors, sensing skins and compressive strain sensors.